A small trip is coming up, it's right around the corner (more on that soon enough). It has also been more than a year and a half since my last confession tattoo. In turn, this has led me to search for tattoo artists in the vicinity of the place I'm headed towards, and to come up with about three new illustrations/ideas for a new tattoo. I do not know if I'll be reworking on one of my old ones or getting one of these three. It all depends on the artist, time, and resources. It also depends on the film camera market there, I am looking forward to finding a CM 500 there (fingers are now crossed).
Most likely to get this tattooed
With that being said, out of the three tattoos that I've sketched, if I were to get one then this, one embedded below, would be it.

Sanity / Insanity Illustrated Tattoo 1: The Original

Sanity / Insanity Illustrated Tattoo 2: Changed it, using a free typeface.
I call it 'Sanity / Insanity'. It's based on something I came across over at Pinterest.
Sanity / Insanity
The messy strings you see on the outskirts of the imperfect circle represent "insanity" (yes, you guessed it right…super high-five points for you!).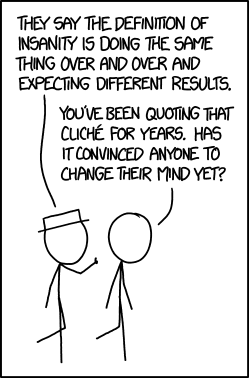 xkcd 1657.
The strings going back to the dark almost-circle area is akin to Einstein's "doing the same thing over and over again and expecting different results". Those same strings define relationships, status, transactions, and responsibilities. They're also a kind of a symbolic interpretation of failure as I see it, and a much more accurate interpretation of an indefiniteloop. They also represent lunacy, madness, craziness, and aberrations.
That dark void of an almost-circle represents the mind, filled with straying strings of thoughts. The mind is trying to grasp everything that has escaped or is escaping it's reach. It's ever shrouded by those strings, and thus retains the color dark color.
And, finally the sanity bit of it all is what's written over the almost-circle - "There is no why" - It's the perfect escape.
And just in case you have ideas, here: